Some people have the ability to look at a problem and think wildly out of the box to fix it. The rest of us, meanwhile, are just staring in wonder. Here are 25 creative, wacky, weird wood ideas for you to enjoy – and maybe inspire your own "McGyver Moment." Please be assured that we are using the term "weird" in the most affectionate and awestruck way we possibly can! Call it what you want: White Trash Repairs, Redneck Engineering, or just the "There, I fixed it," attitude. We think of it as creative use of materials at hand to accomplish a task! By the way, there were some pictures that we couldn't find the source. If you know, please let us know, and we'll happily update and credit the author.
Brace yourselves: We're entering the world of unique DIY Engineering with these Weird Wood Ideas!
Give your car the aerodynamics it needs to beat the rush hour traffic with this Pallet Spoiler! If one spoiler is right, then three spoilers must be amazing! Pallets to the rescue! We wonder if they saw an increase in mileage?
Trust me. I'm an Engineer. No street cone should go to waste. You have to admit, it is a creative, if weird, fix or conversion of a "European" toilet for someone used to use a sit-down toilet situation.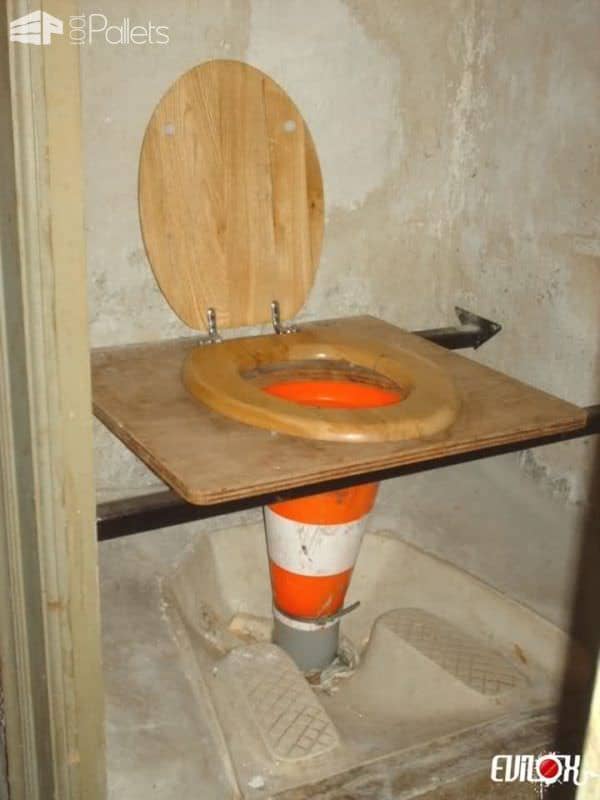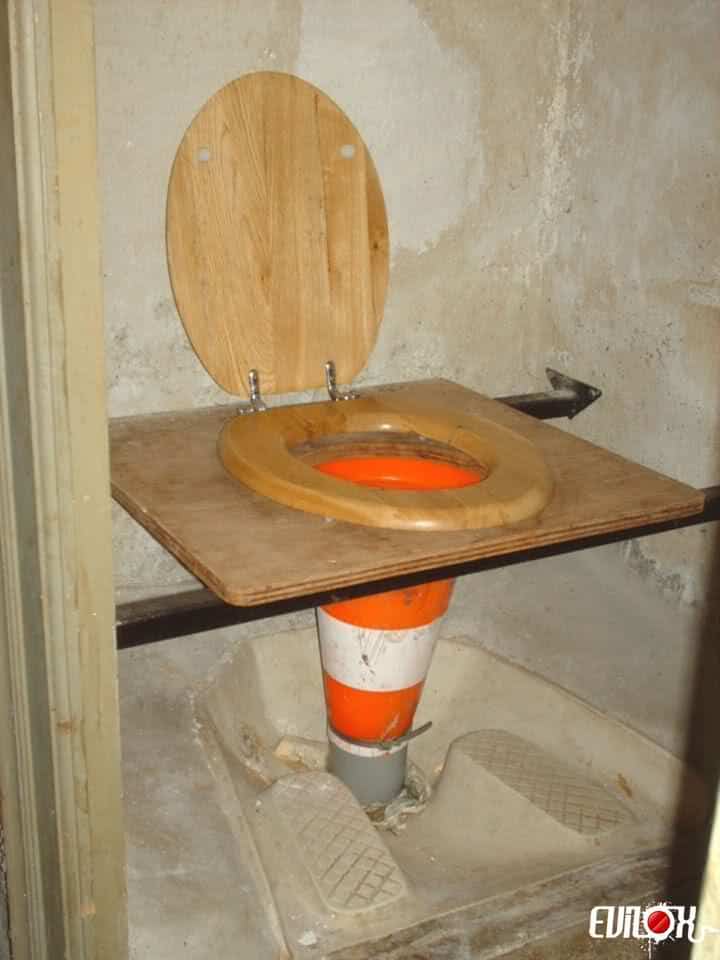 No bottle opener? Shooey, we can fix that! People make fun of "Redneck Engineering," and although some ideas are a "fail," many are weirdly talented, like this ingenious piece of scrap wood creativity!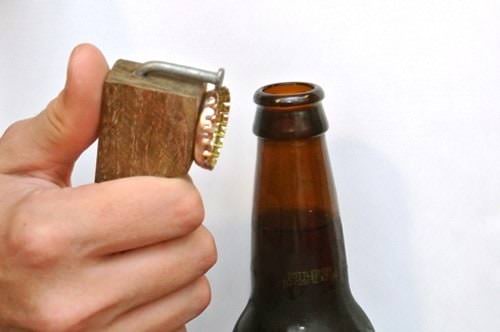 Remember – we didn't name the picture… we just admired the Weird Wood handiwork, and it IS functional. The base is probably upcycled wood, and if the birds enjoy the birdseed, then it is useful. We will make the assumption that it was not a used, dirty plunger. *crossing fingers*
Note the successful use of a pallet as a camping shed porch. Be sure to knock the mud off of your shoes before entering.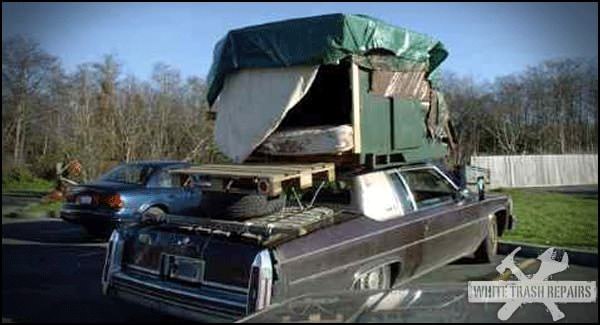 Don't knock it 'till you try it! You can't deny that this creatively weird wood rocking chair made you all pause.
Clever. Sure beats having no mirror!
Another version of a weird but useful weird wood bottle opener, and upcycles scraps you have in your shed right now. Weird, but brilliant! You could be the hero of a party or camping trip with your improvisation skills!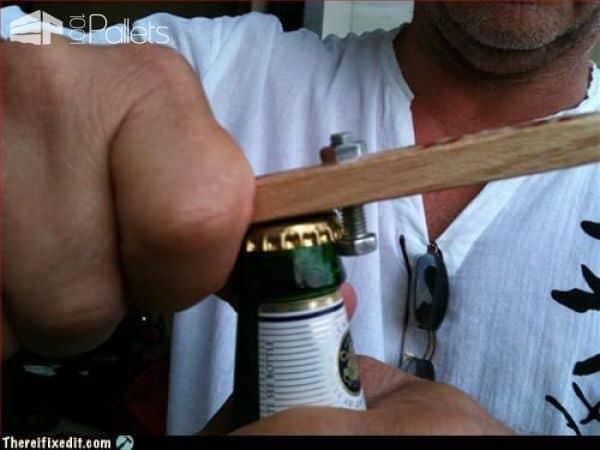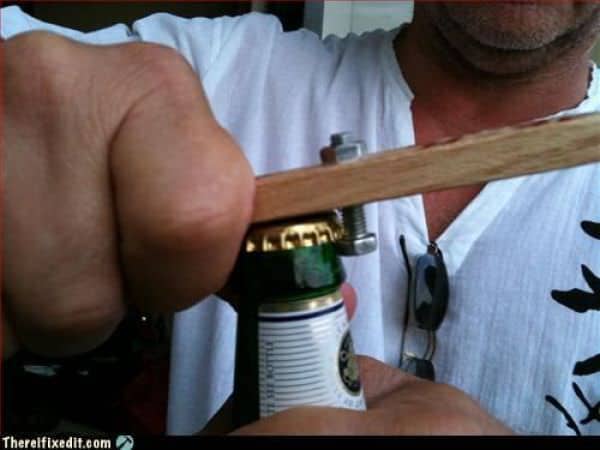 When bad things happen, remember there's always a Weird Wood workaround! We can't confirm the wood type or source on this bumper conversion, but we're pretty sure it was upcycled. :) If your car has airbag sensors, be sure to be careful. This is probably not D.O.T. approved, either.
The next one… well… We are not sure if the pallets are structural or if they are part of the belongings being transported. We wouldn't want to be behind this vehicle on the highway.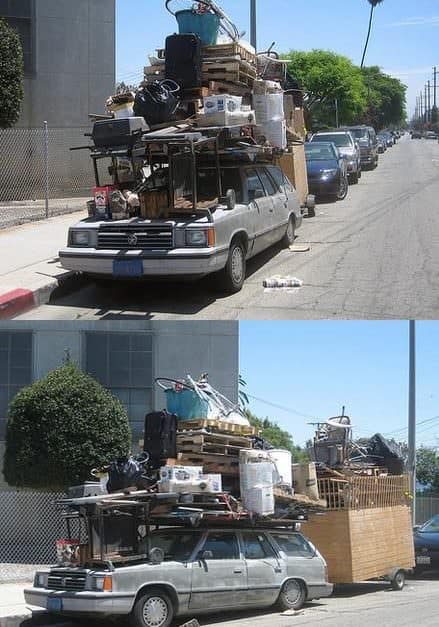 Wow. Just … WOW! *adding to my holiday Weird Wood Project Ideas wishlist now* I don't care what anyone says. I want one! That's a pair of kickass weird treehouses!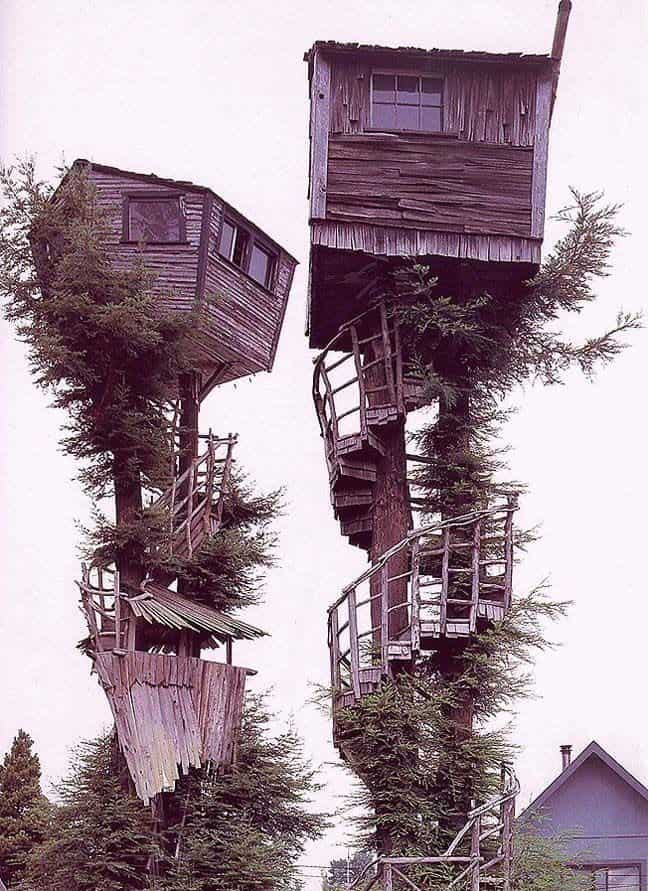 Don't try this at home, people. Just don't. This is beyond Weird Wood ideas and into Yikes land! When your water heater breaks, you have to warm the water somehow, right? PLEASE do not try this at home. That many plugs into one extension do not seem safe. Just heat your cup of water with one as intended, please.
This could be convenient! For those times when you gotta go while on the go. ;)