It's Springtime, and time to get outdoors! After you get those gardens planted and the yard spruced up, you need a gorgeous place to relax and enjoy your hard work! We're here to help you Make Your Outdoor Living Areas Spectacular Using Pallets!
Here's an easy and smart way to create comfortable Make Outdoor Living Areas - a Pallet Deck! This is a great DIY Pallet Project - tame your backyard and create a great space to enjoy time with your family and friends while staying on a budget!
Get rid of that rickety little three-step back porch, and put in a beautiful Backyard Deck like this one! This stunning Pallet Project has several different levels in this back deck, as well as a great set of pallet furniture to compliment it.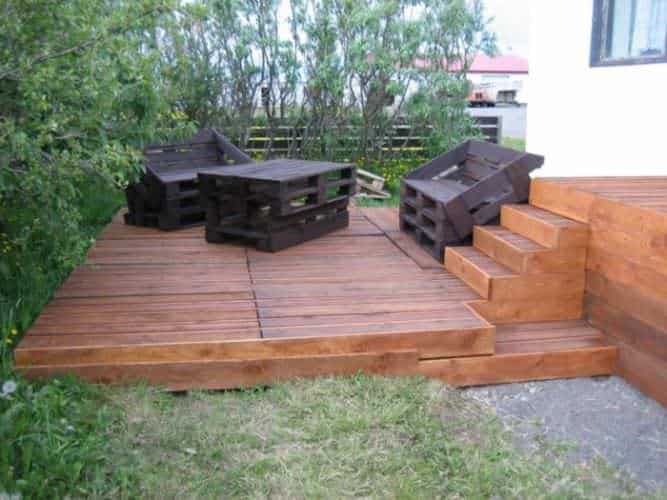 But what if you live in an urban area and only have a rooftop? No worries! Look at this Pallet Rooftop Terrace Lounge, and you may consider moving into the city!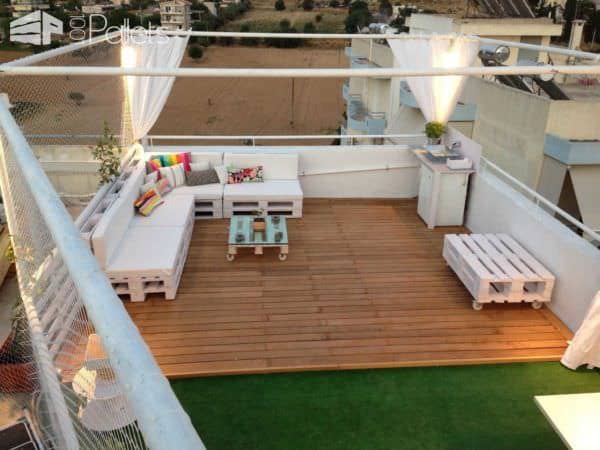 If you already have a porch or patio but need a Pallet Bench, Pallet Chair, or Pallet Sofa, we have hundreds of ideas. Here's a terrific Pallet Terrace Set to inspire you!
Add some color to your Outdoor Living Areas with a simple Pallet Deck and Planter set! This Pallet Deck is a simple idea and could be incorporated into many small spaces. Add a few pallet planters, and you will have your own outdoor oasis!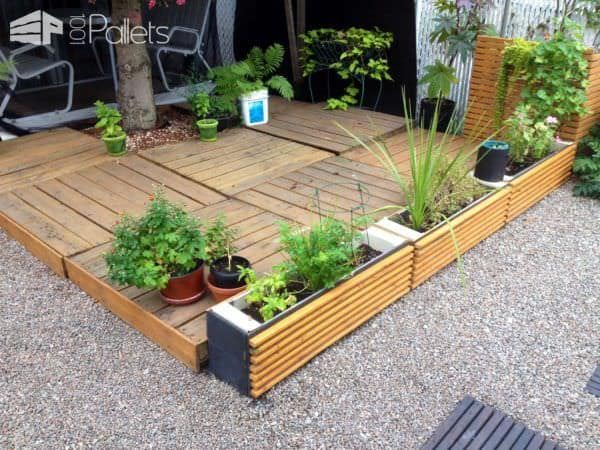 To live, you've got to eat so that you will need a BBQ Side Table! Nothing worse than the excitement of grilling, and you hurry outdoors to put the pile of goodies on your tray down onto the barbecue, but you have no side table! Fret no more! Make a handy BBQ accompanying table like this one and be ready for any occasion!
Pallet Terraces and Decks can look elegant and contemporary, too! Outdoor Living Areas like these will make going indoors a difficult choice! Improve the view with some Pallet Planters. Staggering the height and painting everything white really added a touch of class and visual interest!
Redo or create a Pallet Balcony to enjoy the outdoors on a small scale. Check with your local planning or code enforcement for regulations first. You can make a deck out of expensive wood, or have a more significant pallet deck instead. Top it off with more pallet wood or store-bought if you choose!
Transform your bland courtyard into a beautiful Pallet Paradise! This courtyard terrace used pallets like a wooden carpet to create a getaway from the urban jungle. Brilliant!
Pallets are Prettier in Pink! This Pink Lounge would be a great Woman's Cave!
Here's another great Pallet Deck to make your outdoor living areas more comfortable. An Outdoor Living Area does not need to be huge. This smaller-sized Pallet Backyard Deck is ideal for a couple - and their furry friends of course.
Make a Covered Pallet Terrace area to give you a shady place to enjoy your Outdoor Living Area without being too hot or getting sunburned! Add a bit of whimsy by using the natural patterning of Pallets and face the wood in different directions. This is an excellent idea to make an existing cement or tiled area in the backyard a functional and useful Outdoor Living Area for any gathering!