This Pallet Summer Bar is made from pallets, recycled floor boards and then some stain and paint to make a fun, relaxing area.
Pallet Summer Bar:
I used about 6 pallets to build the bar, and four more for the backdrop. The bar backboard is functional as a row of shelves, but holds art too.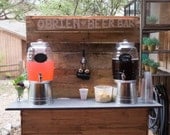 Beer Bar- Pallet Beer Bar- Wedding Beer Bar
This beer bar would be an amazing beverage station to have at your wedding, party, or just in your backyard or garage! The bar pictured above is made from 100% reclaimed wood with a grey stained bar t...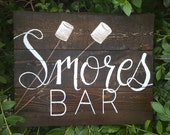 The only way to make this bar better would be to build it in this Amazing Pallet Summer Cottage!