Here are 31 more Pallet Halloween Ideas that are FRIGHTFULLY fabulous! They range from super-simple to HAUNTINGLY intricate. Thanks to our past crafters for some of these submissions, and to the DIY community in general for other ideas! We can't wait for more!
Pallet Halloween Ideas – Blockheads and more fast, fun ideas – some from scrap pallet wood:
Put those scrap blocks to good use. Some of these ideas would require NO woodworking experience whatsoever, and you don't have even to be good at art. You just have to have a little fun (and a few leftover/scrap nails). These would be great for centerpieces, for placeholders – like making a different block creature for each of your family or friends – or just decorative touches.
Frankenblock (source)
Block Window (source)
Block O' Lantern (source)
Use those scraps and trimmings you have lying around in a bucket or container. If you save a lot of scraps, you may not even have to do much cutting at all. Add a piece of branch for a stem, and coat the boards however you want, and you've got master-"pieces." These pumpkins wouldn't rot or freeze, and don't have to be carved.
Scrap O' Lanterns (source)
When crafting with pallets, we all end up with one or two boards that are partially split or broken on one end. Wouldn't they be terrific for these little cutouts? You could accomplish these with just a hand saw if you want, but a jig saw or band saw would make the project even faster.
Is that Witch BOARD with the Ghost & Cat? (source)
Another brilliant and fun idea: make an "out of candy" or "out of treats" sign for your front porch if you don't want to turn out the porch lights. Again, you wouldn't have to do a single cut. Use a scrap piece of wood and decorate it as you choose.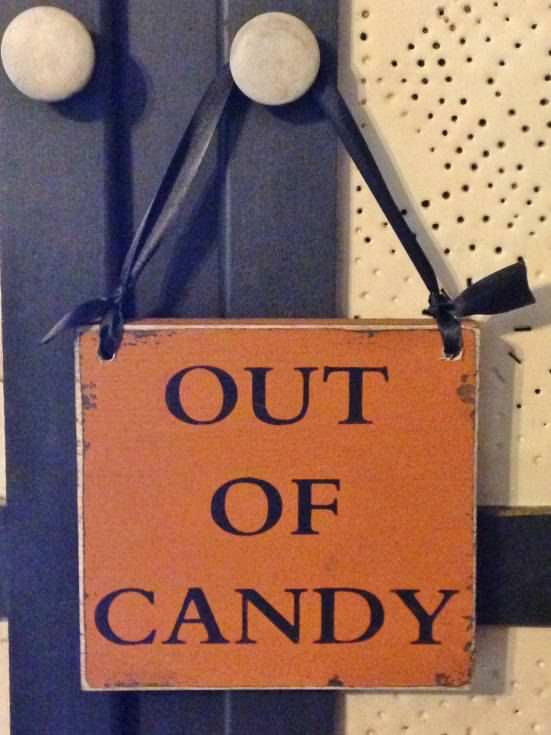 Trick or Treat, Scrap my Feet (source)
How about this scrappy little creature? These could be made from bits and pieces, and they'd be amazing for your Halloween decor. You can make crazy spiders, or scary ones with fangs, or anything else your Blackened, Halloween Heart wants.
Scrappy Li'l Spider (source)
Block Candle Holders are great, and can be drilled out or just chiseled out for shallow tea lights. Then, just decorate them any way you want!
Block Witch Candleholder (source)
These little ghosts could be pieced together from scraps in your workshop (or cut out from broken boards or scraps), but no one would ever know! Use some scrap wire to hang them (or a stronger fishing line), and get "spirited".
Spoooooky scrap cutouts (source)
This pieced-together pumpkin would be ideal for that one pallet board that got split or damaged. You NEED to have a cut board, so why not let Mother Nature (or wrong forklift driving) help you along with it? Then, lace the parts together with twine, wire, or anything else you choose.
Pieced-together pumpkin (source)
This witch COULD cost you five dollars … Or you could use your Pallet creativity, and do it for FREE! Wouldn't this be fun to prop in a corner, or put outside in front of the shrubs?
Board Witch (source)