With these 35 Awesome Wooden Pallet Bars as inspiration, your dreams of having your own bar at home or in your garden can quickly become a reality! Build your own bar and kick back with family and friends to enjoy a delicious beverage or cocktail. To keep costs down, build the bar from pallet wood – and keep them from the landfills too! The pride you feel will make those beverages even tastier!
35 Awesome Wooden Bars made out of pallets:
Some of our Crafters have amazing talent and creativity, and they have graciously shared their designs. They've made some fantastic bars – both indoor and outdoor, Tiki-style, casual backyard ones, U-Shaped, L-Shaped and more. Look at the selection of wooden bars we've compiled, and you'll surely be inspired to make your own!
Rustic Pallet Bars make excellent projects for the pallet neophyte!
We're sure that your next spring project will be to make yourself a summertime bar! If you need to determine the size of your bar, here are the standard dimensions of pallets in different countries, this may help you.
A bar like this little movable one made from recycled pallets & an old baby carriage. (source)
Bar counter for a Belgian organic craft beer, all made from old recycled pallets. (source)
This astounding pallet bar project is a complete outdoor bar with a 70 square meters terrace, entirely made from recycled pallets & wood. (source)
Another outdoor mobile bar made from reclaimed pallets, with storage below for the stools. (source)
Beach bar entirely made from repurposed pallets, for those on a tiny budget :) (source)
Named the « Cocktail bar,» this outdoor pallet bar was made for a Belgium festival by designers Esposito Sébastien & Henricy Gautier. (source)
An ephemeral pallet wood bar made for a show by the French theater company Rara Woulib. (source)
A beautiful bar counter made from two repurposed pallets and an old wardrobe door for the top…perfect for a garden summer bar! (source)
35 Awesome Wooden Pallet Bars  –  Need an outdoor pallet bar for next summer? This one is made from old wooden pallets and old lariat rope. (source)
Kitchen bar or island by reusing an old furniture and screwed some pallets on it. (source)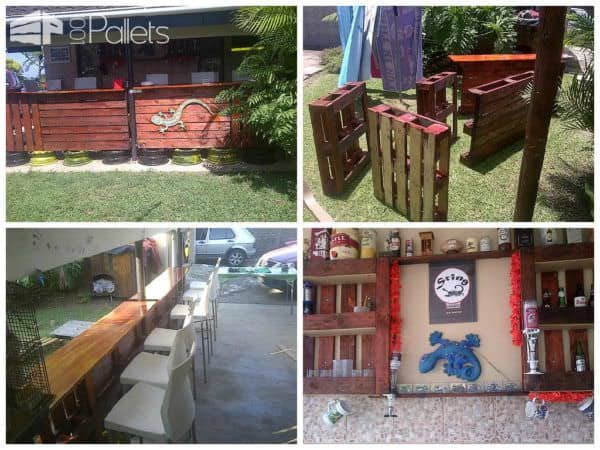 A home-made bar made by reusing eight wooden pallets. Everything was made from pallets in this bar except the base which was made with old car rims. (source)