As the leaves begin to turn and the air gets crisp, it's time to start decorating for Halloween! Instead of buying decorations, we've compiled 22 Superb Halloween Decorations that were made with recycled pallets as inspiration for you for your next Halloween pallet projects! Here are some of our favorites:
Get some inspiration for Halloween with these 22 Superb Halloween Decorations:
A "Pumpkin" Lantern decoration made from pallet wood (via Kate Arthur) – This charming lantern can be made with an adorable face or as frightening as you want it! Painting the carved-out areas highlights the workmanship. For safety, light it up at night with glow sticks or little LED candle lights.
Pallet Block Pumpkins (via Kate Arthur) – These simple blocks can be used for Halloween and all the way through Thanksgiving or the full fall season. Create your own colorful or whimsical style, and change it up whenever you want! These would be a great project to do with the kids!
Haunted Pallet Gate: Halloween ideas inspired by Hotel California, Poe's The Raven, The Walking Dead, and The Treehouse of Horrors (via AttaGirlSays). Now, this Halloween spook-fest doesn't eve need any building skills or tools! Make it more frightening by having the kiddies make little hand-prints. Add some plastic body parts, easily found at a discount store such as a dollar store, and make it even more creepy!
22 Superb Halloween Decorations:
How about this fun Countdown to Halloween Pallet Sign for your porch (via The Celebration Shoppe)? You'd just need some stencils to spraypaint, or have fun and hand-paint them. Another project that you could enlist the kids to help with!
A Creepy Coffin made from pallets to put in front of your house! Brilliant!
Halloween Pallet Wood Decorations: Jack and the Boos (via Pinterest)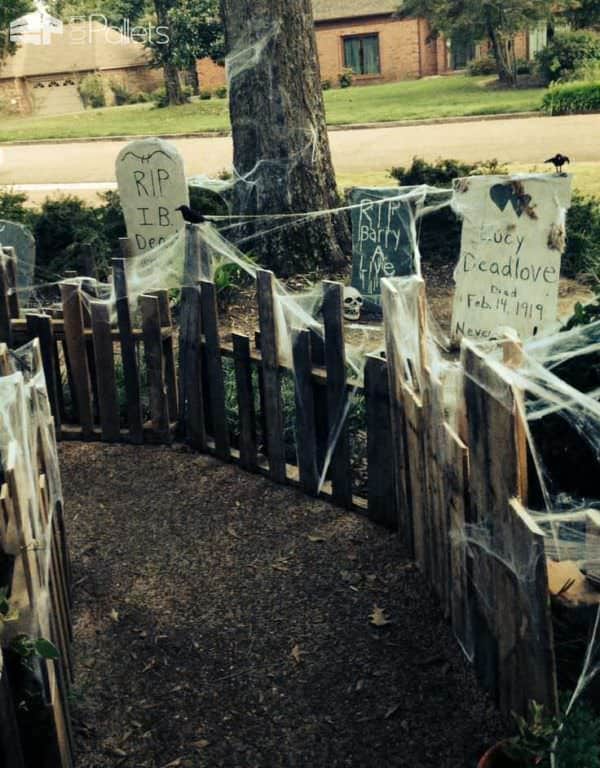 Spooky Pallet Halloween fence (via Pinterest) – the more uneven, the better!

Another Frighteningly Fabulous Coffin made from pallet wood (via Pinterest).
A cool Halloween Pallet Wood Fence (via SewWoodsy) – again, the more crooked and uneven, the better. It gives the appearance of a rundown, abandoned house!
Pallet wood is an absolutely incredible material for making Halloween Coffins (DIY instructions here). This one has a bit of accessorizing done. I hope they give that poor spook a sandwich! :)
Easy Pallet Wood Ghosts (via Pinterest)