Here is an hidden desk I made. I hope it will inspire other people.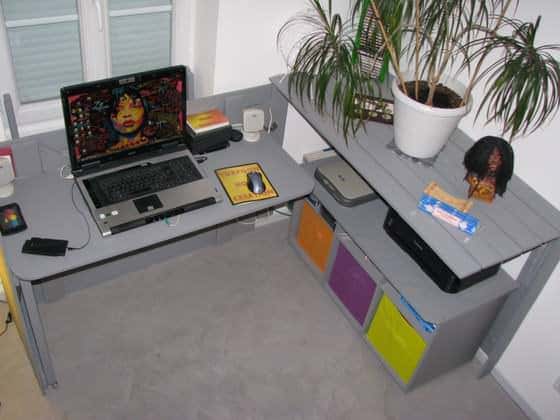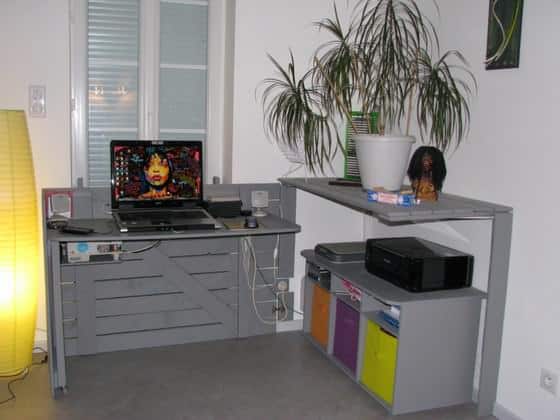 Following the success of this post, here is the tutorial (in French) to do it (Available at "Le coin des bricoleurs"):
1. Montage des différents éléments:
Ce bureau est constitué de 3 différents panneaux à construire :
Le premier est le plateau supérieur, celui du dessus de la "boite" et qui viendra accueillir quelques objets de déco.
Les 2 autres seront assemblés en L pour venir supporter le plateau du bureau.
Le montage a été réalisé à la façon de "volets", avec un renfort en Z.
Les planches utilisées sont des voliges, d'environ 9 cm de large, et vendues en longueur de 3m, pour leur légèreté (un peu + d'1cm d'épaisseur).
Avant l'étape de montage j'ai simplement ajouté une petite couche de badigeon gris pour assortir le tout aux autres éléments de la maison…
 2. Montage:

Pour le montage, 3 étapes :
Le positionnement au mur du plateau supérieur à l'aide de 2 tasseaux.
L'assemblage de la partie amovible en L, et fixation du plan de travail.
Jonction des 2 parties grâce à de simples charnières + mise en place des roulettes
Vous verrez au passage 2 petites étagères dissimulées sous le plan de travail, pour venir accueillir le caisson de basse pour les enceintes, ainsi qu'une multiprise pour les différents branchements… Ca tient avec des mini-tasseaux et un morceau de fil de fer !
3. Caisson (imprimante/papier):

Alors là, c'est une partie facultative, il n'y a rien de bien compliqué.
J'ai réalisé ce petit caisson rectangulaire en MDF, pour y ranger à la fois des petites boites de rangement tissées, des papiers et autres bricoles, mais aussi pour y placer mon imprimante.
Celui-ci mesure environ 1m de long pour 40 cm de profondeur, et bien sûr il faut calculer la hauteur maximale (imprimante comprise) pour que celui-ci passe sous le plateau du bureau lorsque l'on referme la boite ! A adapter en fonction de son propre matériel…
Et il est monté sur roulettes, histoire de passer facilement un p'tit coup d'aspirateur en dessous !